Leadership
Multi-Disciplinary Excellence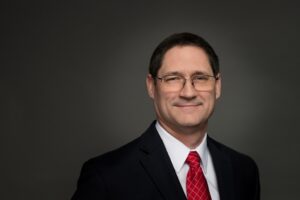 James Bullington, P.E.
Chief Technology Officer
James Bullington, Professional Engineer, is the chief technology officer (CTO). He joined LSINC in 2012 as director of engineering and was then promoted to vice president of engineering, prototyping, and manufacturing.
As CTO, Bullington develops key relationships to advance growth in niche markets and focuses on innovation in technology areas. He is also responsible for ensuring protection of the company's intellectual property as it pertains to engineering and product development.
Bullington, who holds nineteen patents, is a Professional Engineer with a master's degree in Mechanical Engineering from University of Alabama in Huntsville. He has deep experience in product engineering devices from electronic enclosures the size of a business card to flight simulators that stand 27 feet tall.
He's also proud to be a foundation board member for the Alabama School of Cyber Technology and Engineering, which is a high school located in Huntsville that is like no other in America.
His background includes extensive work in thermal and structural analysis, molded design, conceptualization of new products, electronics integration, manufacturing enablement, minimizing production costs, and mechanical engineering.