Internships
Innovative Methods in Business Research and Analysis Collegiate Experience (iMBRACE©)
The Innovative Methods in Business Research and Analysis Collegiate Experience (iMBRACE©) initiative is LSINC's premiere leadership internship program. Through this program, paraprofessionals will learn real world strategies for influencing business decisions for a variety of clients.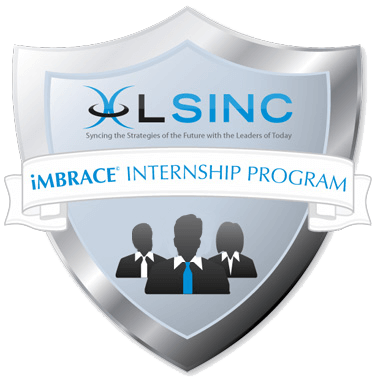 Qualifications
Candidate must have an overall minimum GPA of 3.0 and must  be in good standing with his or her University
Candidate must be a junior, senior, or graduate student majoring in one of the following relevant areas:

Accounting
Communications
Contracting/Procurements
Engineering
Engineering Management
English
Finance
General Business
Journalism
Library Science
Management
Marketing
Organizational Behavior
Position Description and Scope of Responsibilities
LSINC's iMBRACE© program is a paid leadership development internship in which candidates will perform detailed research and analysis to develop plans and approaches that strategically address complex business problems. Candidates will conduct highly complex technical, economical, and financial studies and analyses of market trends in order to assess and quantify opportunities and competitive risks.  Summer (May – August/September) candidates will be expected to work 32-40 hours per week.  The summer internship program is 8-12 weeks long.  Fall (September – December) and spring (January – April) candidates will work approximately 15-20 hours per week.  Fall and spring internships are 12-15 weeks.
Candidates will be expected to:
Demonstrate the ability to work both independently and in a collaborative team environment, supporting research analysts, engineers, and industry experts in a variety of fields and from a variety of government agencies and private organizations
Thrive in a fast-paced, deadline-oriented environment and work well under pressure
Exhibit strong interpersonal, oral, and written communication skills
Possess excellent customer service skills
Assist in preparing various presentations and reports
Analyze and research complex problems, market strategies, and technology concepts using a variety of analytical methods and data mining processes
The iMBRACE© program will provide students with:
An understanding of how business development occurs in a variety of government agencies and commercial entities
The skills needed to translate complex (sometimes technical) data into actionable knowledge for senior level decision making
Experience working directly with various client components to identify and validate opportunities, risks, and increase situational awareness of relevant issues
The ability to use the discovery of insights and trends  for strategic, data-driven decision making
Internship Application: Please fill out the form below about how to send your resume or previous work/volunteer experience, community involvement and award commendations for further consideration.  Candidates must also submit an unofficial copy of transcripts and two letters of recommendation.  Letters of recommendation can be a combination of academic, employment, and/or personal character references.